Go back to soundfabrik main page
marigold - 2001 November
special B-side
This album is a collection of all the work between the ep and statue in a shape of a birdheaded genius. The cd is limited to 40 copys (sold out). The cover was made with a white plastic film over a blue card.
Matthias Bausch - singing and guitar
Wolfram Schmidt - drums, guitar on "easter session" and keys on "you came"
Wolfgang Bauer - bass guitar and recording
Benjamin Tschubel - keys on "dusty flies" and beat on "you came"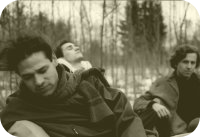 Matthias/Wolfram/Wolfgang
audio
01 farmer (3.09min) (music:bauer)
02 easter session (3.15min) (music:bausch/text:bausch)
03 you came (Drumcomputer) (5.12min) (music:bausch/text:bausch)
04 dusty flies (3.06min) (music:bausch/text:bausch)
Bonus track (snippets from 1996 to 2001, from our rehearsals):
06 stew (26.06min) (music:bauer/bausch/schmidt/müller/nussbaum/hermann/antreich/bach)
graphics
Cover

Inlay

This work is licensed under a
Creative Commons License
.