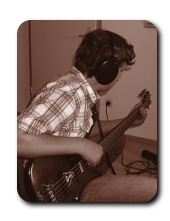 instrument i play:
bass guitar, western guitar and Gnu/Linux

best songs at soundfabrik:
marigold - is not dead
marigold - easter session
marigold - aquaman

music i listen to:
Yo La Tengo, South, Gomez, Calexico and a lot more.

best album ever:
One album that was very long a album that inspired marigold was Mutations from Beck. Another good album is kid-a from radiohead and of course de-loused in the comatorium from the mars volta

worst album ever bought:
cyber chords & sushi stories - PLAN-B


Favourite...
food:
my own cooked pizza
movie:
all the western movies with Clint Eastwood or made by Sergio Leone
character in ghostbusters:
Peter Venkman
editor:
emacs
LADSPA PlugIn:
i still can't decide